WE ALWAYS TAKE CARE OF YOUR HOLIDAYS WITH OUR USUAL PASSION
Aware of the impact of the current difficult situation has around the world, we want to assure you that we are closely monitoring the situation and following the guidelines of global and local health authorities to ensure that we remain vigilant and able to face the current circumstances.
We are taking all the possible precautions in our apartments and offices with the aim of providing safe and clean environments for you and your family.
If you are planning a holiday with us, expect to receive the same services and attentions that have always characterized us.
Here we have collected some questions and answers that may be useful for you:
Will I always have to wear a mask during my vacation?
No. You can walk freely with your family, relax under the beach umbrella and play on the beach without having to wear a mask.

The mask must be used:
In closed spaces open to public (cafes, agencies, shops, restaurants)
From 6 p.m. to 6 a.m. outdoors if you are near bars/restaurants or in public open spaces such as squares, city centers and busy streets. This according to the Orders provided by the Italian Ministry of Health of August 16, 2020.
When you are not able to keep the minimum distance of 1 meter between people not living together and not staying in the same room/apartment.
Is tourism from foreign countries allowed?
Since June 3, Italian regulations allow Italian citizens and citizens from: Austria, Belgium, Bulgaria, Cyprus, Croatia, Denmark, Estonia, Finland, France, Germany, Greece, Ireland to move freely, therefore also for tourism. Latvia, Lithuania, Luxembourg, Malta, Netherlands, Poland, Portugal, Czech Republic, Romania, Slovakia, Slovenia, Spain, Sweden, Hungary, Iceland, Liechtenstein, Norway, Switzerland, Andorra, Monaco, Republic of San Marino, State Vatican City, United Kingdom to travel freely, therefore also for tourism.
(source: Italian Ministry of Foreign Affairs)
For further information, consult the official indications of your country:
Germany
Austria
Switzerland
Poland
Hungary
Czech Republic
A safe holiday in apartment
What protocol do you follow for cleaning apartments?
The guidelines for cleaning our apartments have been integrated with the indications of the Italian Ministry of Health:
• All surfaces, furnishings, dishes, utensils and floors undergo a deep cleansing followed by careful sanitization using chlorine based disinfectant solutions (0.5% active chlorine) or 75% alcohol based disinfectant.
• Cleaning operations are carried out by selected staff, hired and trained directly by our company, wearing the required safety devices such as masks and gloves and in possession of sanitizing gel.
• The compliance with the procedures is guaranteed by the constant monitoring and instruction of our staff and by the use of sanitized equipment for each individual apartment.
• For more safety, we have been using disposable mattress covers and pillow covers for years.
• Towels and bed linen has always been subjected to sterilization by our industrial laundry.
How will be managed the check-in at the agency?
We remind you that it's already possible to check-in online before arrival, in order to simplify and speed up the procedures in the agency. At your arrival you will be welcomed in a safe and sanitized environment by our team, trained and equipped with security devices, that will take care of sanitizing the keys before and after delivery.
For greater customer tranquility, we suggest you to enter one person per family.
Will the swimming pools of the villages and residences be open?
Of course, the pools will be open.
In the solarium areas, a minimum spacing of the beds of two meters is guaranteed, with the exception of those designed for the occupation of people living together and staying in the same apartment.
For more information on the opening date of the swimming pools in the individual villages and residences, we suggest you to contact our booking center: europa@etgroup.info / +39 0431 430144.
Will the children's play areas be open?
Where present, the indoor and outdoor play areas will be open. Parents will be responsible for their children's compliance with safety and social distancing rules.
How will be managed the maintenance in the apartments?
If it is necessary to carry out maintenance or minor repairs to the rented apartment, one of our maintenance staff will access the apartment respecting all the health protocols provided, equipped with the required safety devices and respecting the safety distances.
How will be delivered the extra equipment such as bicycles and strollers?
The delivery of extra equipment such as bicycles, high chairs, strollers etc. will follow the usual methods. All the equipment will be disinfected.
Will be active the animation service in the villages?
With the current regulations on social distancing, it is impossible for us to guarantee the animation service. If there are new regulations from the competent bodies, the service will be reintroduced.
Will the restaurants / snack bars inside the villages be open?
Of course, the restaurants and snack bars inside the villages will be open: the tables will be more widely spaced and will be required attention to social distancing.
Enjoy the beach safely
Are the beaches of Bibione and Lignano accessible this summer?
Yes, the beach service has started on 30 May both in Bibione and Lignano.
How are organized the beach places this year?
The beach places are more widely spaced: from 8 up to 54 square meters for each single beach place, each sector is surrounded by greenery.
What kind of safety measures there there are on the beaches?
There are wider distances between the umbrellas, paths and new sanitization procedures on the beach with daily interventions on equipment, umbrellas, bathrooms and closed spaces such as ticket offices.
It is always required to respect the social distance of one meter between people who do not live together and do not stay in the same apartment/room.
Is it possible to access the free beaches?
Yes, it is possible to walk on the free beaches.
We remind you that among the services included in your booking with Europa Tourist Group there is a free beach place.
Is it possible to play sports on the beach?
It is possible to practice individual sports that normally take place on the beach (e.g. racket games) or in the water (swimming, windsurfing), respecting the social distance of 1 meter between people who do not live together and do not stay in the same apartment/room.
It is not possible to practice group sports and team activities that can lead to gatherings of several people.
Book your holiday safely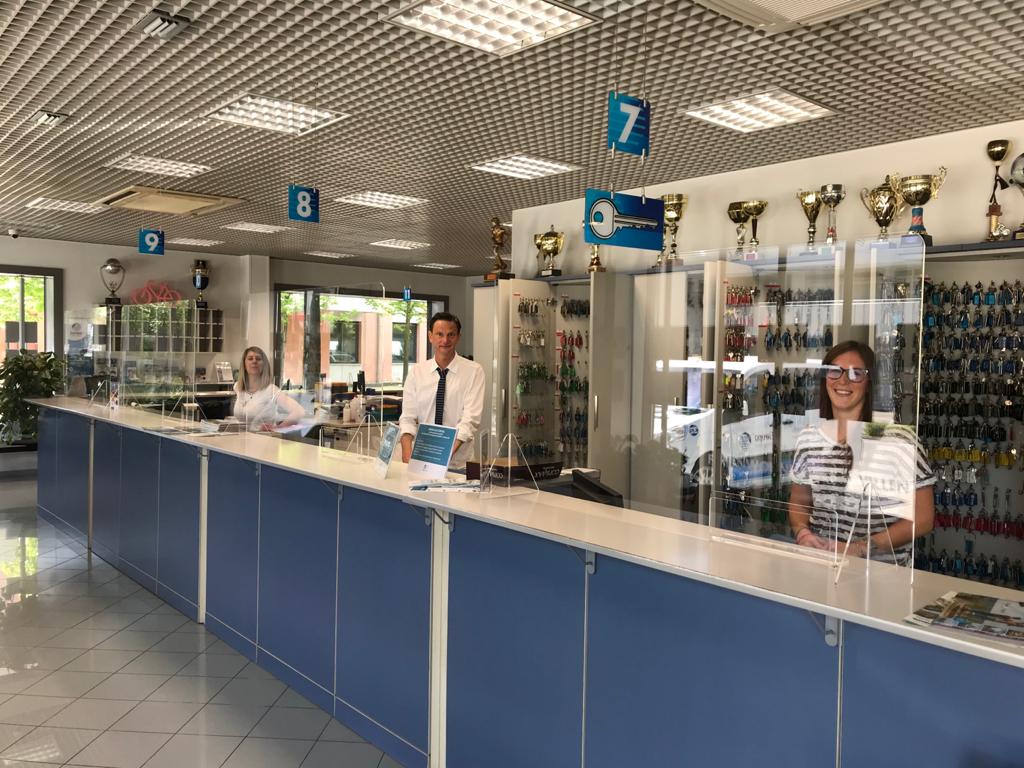 Why can't you return the deposit since it is a case of force majeure?
According to articles 88 of Legislative Decree No. 18 of 2020 and 28 of Legislative Decree No. 9 of 2020 if you choose to cancel your booking, you will not lose the deposit already paid, but will be entitled to a credit (voucher), which corresponds to the deposit you paid and that will be valid until 12/31/2021.
Until when can I cancel my holiday without losing the deposit?
In case of renunciation of your holiday, you will not loose the deposit you already paid: for cancellations communicated at least 4 weeks before the arrival you will receive a voucher for the whole amount you already paid valid for reservations for the current year and for the following one.
For more information you can contact our booking center +39 0431 430144 / europa@etgroup.info.
If I can't go on vacation in 2021, can I transfer the credit to another person?
Of course, the credit can be transferred to a friend, acquaintance or family member.
How is the health system in Bibione and Lignano?
Bibione is located in the Veneto region and Lignano in the Friuli Venezia Giulia region. During the Covid-19 emergency, the health systems of these two regions have proven extremely successful, both in containing cases and in treating people who have tested positive for Covid-19.
Thanks to their excellent health systems, Bibione and Lignano offer you a holiday in complete safety:
– First aid facilities;
– Helicopter rescue service;
– Hospitals only a few kilometers away;
– Medical assistance on the beach;
– The thermal center Bibione Thermae offers the possibility to carry out the Covid-19 antibody blood test by payment.
We take this opportunity to thank you for your loyalty, and we sincerely hope that the situation improves quickly. We will keep you updated on any changes and we look forward to welcoming you back to our facilities as soon as possible.
Best wishes, Europa Tourist Group team