Dog beach, a four-legged holiday at Bibione and Lignano Sabbiadoro.
Don't leave your furry friends at home, this summer you can decide to spend a holiday at the seaside with all your family, pets included!
Did you know you can choose between the dog beach Spiaggia di Pluto in Bibione and the Doggy Beach and Duke Beach in Lignano?
Mrs Franca is waiting for you in Bibione with all her staff, to welcome you in their unique way! You can rent daily a place with a beach umbrella, two sunbeds, doggy bowls, leashes and cots for your pets for 19 euros min. during low season and 21 euros during high season. There is a distance of 5,50 m between one place and another for your and your dog's comfort. Discover the large enclosed areas 6×6 and 5×5 where you can play with your four-legged friends, together with the News of Summer 2017, the relax area. Among the different available services we remind you of the self-service grooming and the corner shop where you can buy some things for your beloved pets. Every Sunday in July and August the vet ambulance is always available. For everybody's safety and hygiene, three times a week the "beach cleaner" is employed, which cleans and sanitizes the sand and all the equipments with the same products which are employed in the vet's cliniques.
Via Procione, 30020 Bibione VE
Telefono: +39 371 39 31 992
E-mail: info@laspiaggiadipluto.com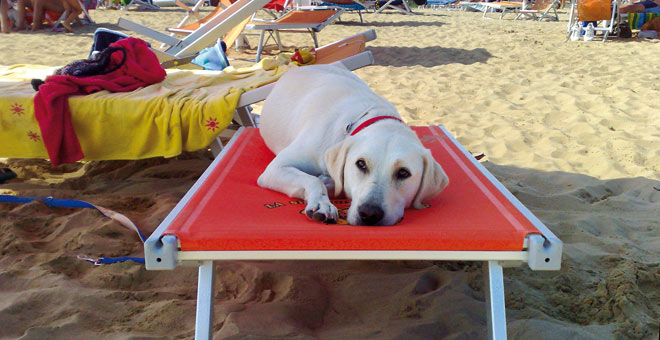 Even more is waiting for you in Lignano:
You can find 'La Spiaggia di Duke' (Duke's beach) in Lignano Riviera, offering special beach umbrellas and sun beds for rental, doggy bowls and doggy showers, reserved stretch of water to guarantee your dogs a safe access to the sea without limits of time. New and tasty since 2017: ICE BAU, the ice cream for dogs!

Lungomare Riccardo Riva 15, 33054 Lignano Riviera UD
Telefono: +39 392 04 09 765
E-mail: info@laspiaggiadiduke.com
Doggy Beach in Lignano Sabbiadoro, Lungomare Marin, has everything it needs for its guests' enjoyment and relax: 'VIP-Dog' spots with beach umbrella, 2 special sunbeds with canopy and (optional) camp bed for your dog inside a reserved fenced area of 4,00 m x 3,20 m, where your dog can relax without the need of a leash. There is also a neat snack bar where you can sit with your dog and enjoy a drink, or taste one of our dishes while relishing the seaview. Corner shop dedicated to your four-pawed friends, self-service grooming area, veterinary service and the constant presence of a highly specialised dog trainer plus a rich entertainment programme.
via Lungomare Marin, in prossimità dell'ufficio N°1
Telefono: +39-366.3851480
Mail: info@doggybeachlignano.com
Apartment or hotel, many are the accommodations offering comfort and space to your pets. Our Hotel & Aparthotel Olimpia is well-known for its fun and playful four-pawed guests and their love for cuddles! For only € 13,00/day, you will receive our convenient doggy bowls and a comfy doggy bed to snooze the day away. Thanks to the Pet Hotel certification, you can enjoy several different services dedicated to dogs.
Europa Tourist Group offers apartments, houses and villas with fenced-in garden and suitable spaces for your dogs' well-being. Spring is the best time of the year to visit Bibione and Lignano with your four-legged friends and take long walks along the beach.