Are you looking for the best agency to organize your holidays in Bibione & Lignano?
Europa Tourist Group gives more value to your holiday, a well-established team at your disposal helps you to find the best solutions for your "all inclusive" holidays in Bibione & Lignano. You can choose between our 4 hotels, 7 aparthotels, 2 innovative resorts and 2,600 apartments, bungalows and villas for every need, comfort, quality and price.
Our 24/7 assistance, our "all inclusive" prices and our exclusive Europa Plus benefits make your beach holiday to an unforgettable experience and enrich your stay with Europa Tourist Group in Bibione & Lignano.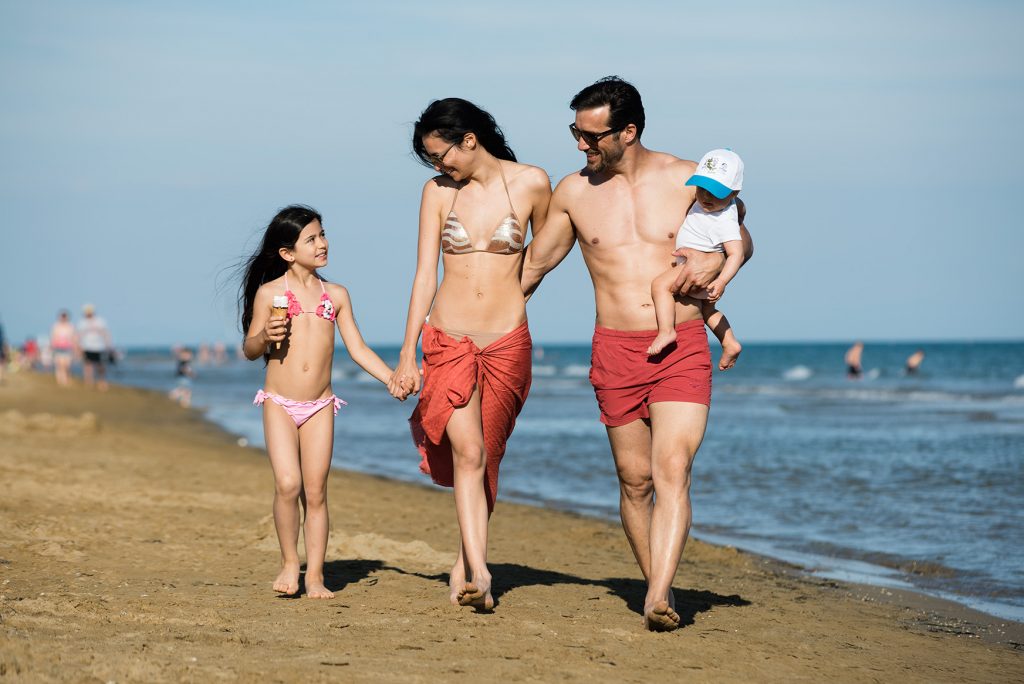 In the 50 years of activity of Europa Tourist Group we have listened to our customers' needs, advices and opinions and this way, by expanding the range of offered services, we have created solutions that meet their expectations.
Are you curious  to discover all Europa Plus benefits to enrich your holiday?
Beach place always included
If you are looking for an apartment with beach place included or a hotel with private beach in Bibione & Lignano, Europa Tourist Group is the right choice for you.
For all stays, from the middle of May to the middle of September, in one of our accommodations, the free beach place is always included in the price.
Customers who decide to spend their holidays in our apartments and villas in Bibione have the possibility to book their beach place in advance.
Not only relaxation and sunbathing on the beach, but also a lot of fun! Included in the price you will have a rich program of entertainment activities on the beach for children of all ages and adults, with games, creative workshops, sports and tournaments.
Furthermore, by staying in some of our villages in Bibione you will have the opportunity to take advantage of the free Beach Shuttle. A comfortable shuttle service, perfect if you don't want to walk or cycle to the beach with toys of all kinds. Discover all accommodations with Beach Shuttle >> Beach service <<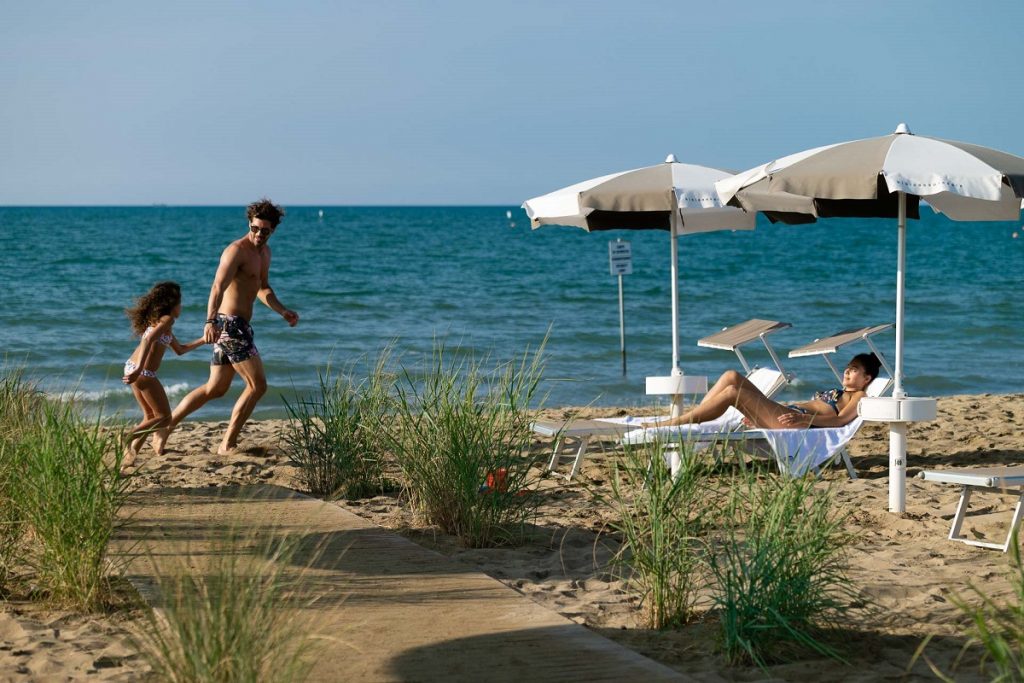 Europa Card
Book your holiday at the seaside with Europa Tourist Group and you will receive at your arrival our exclusive Europa Card, a reduction card which offers you a lot of activities for special prices.
You can use your Europa Card in the main amusement parks of Bibione & Lignano, book excursions at special prices and benefit of discounts in many bars, restaurants and shops.
You will also have special discounts for spa treatments, the swimming pool park and wellness area of the Bibione Thermae.
Europarty
The Europarty is probably the most characterizing Europa Plus appreciated by our customers. Europarty is a great party in the countryside, a moment of gathering dedicated to guests staying in the apartments in Bibione.
In the middle of linden trees and holm oaks, an evening with live music, dance, spaghetti with Bolognese or tomato sauce, a glass of local wine and soft drinks awaits you. While the older ones taste the local specialties, the little ones will have fun with baby dance with our mascot, the frog Mario, and our entertainers on the large outdoor playground.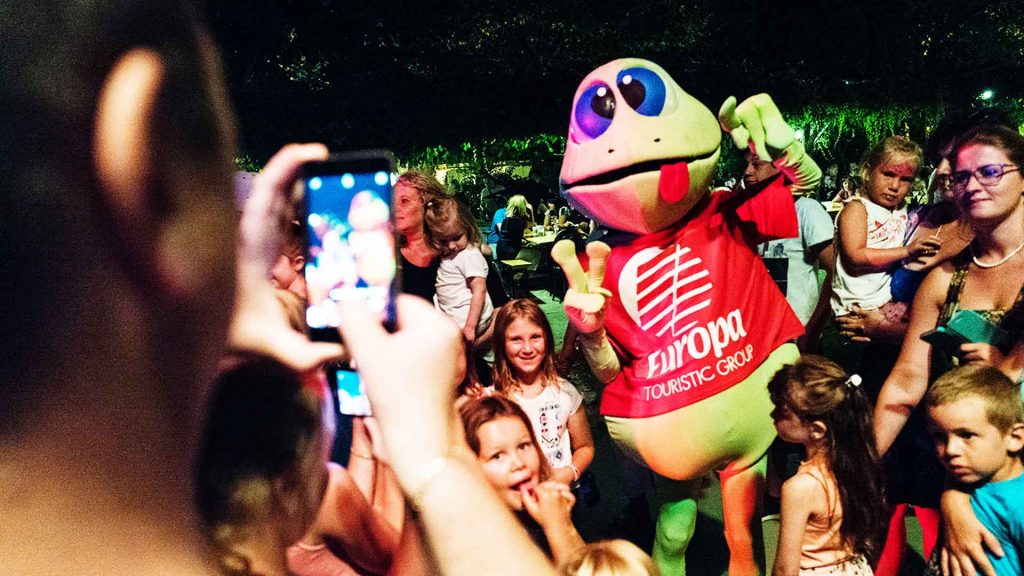 Bike
The best way to discover Bibione & Lignano Sabbiadoro is by bike thanks to their cycle paths through the green pine forests.
At the beginning of your holiday you will not waste any time to look for a bike rental in Bibione & Lignano; staying at the Europa Tourist Group accommodations offers you the possibility to rent bicycles starting from € 2,00 per day from one of our partners. Discover the details of our bike rental >> Bike rental << 
Extra cleaning and Bedlinen
In addition to the final cleaning at the end of your holidays, we offer on request and with advance booking, the rental of bedlinen and towels. The bedlinen and towels provided are professionally washed and sanitized by our industrial laundry and delivered directly during check-in at the agency.
In some of our accommodations the first set of bedlinen and towels is included in the price.

Spending your holidays in one of the apartments or holidays villages of Europa Tourist Group you can also request an extra midweek cleaning service (kitchenette excluded), carried out by a local partner company. Discover all details about our bedlinen and towels rental and about the extra midweek cleaning and discover in which accommodations the first set of bedlinen and towels is included in the price. >> Bedlinen, towels and cleaning << 
Rental
Children's equipment is often bulky and it is difficult to find space in a car already full of suitcases and toys, therefore we have decided to give our customers the possibility to rent it. Request the children's equipment you need when booking and you will receive it during the check-in.
Discover the equipment and the rental prices >> Rental <<
Excursions
Holidays in Bibione & Lignano Sabbiadoro are much more than a simple beach holiday, thanks to the strategic position of the two locations you can discover the hinterland of Eastern Venice, rich of art and culture.
During your holidays in Bibione & Lignano do not miss one of the excursions to beautiful places in the hinterland. Our Europa Plus benefits offer you the possibility to book excursions and boat trips for special prices. Discover all excursions starting from Bibione & Lignano >> Excursions <<
Gourmet food delivery
During your holidays in Bibione do not waste time by cooking, with our Europa Card you can order your favorite dishes which will be delivered directly on the beach or at your holiday accommodation.
Download the App GOPEPE BIBIONE directly from the App- or Play-Store and order the dish you prefer by choosing between pizzas, hamburgers, gourmet first and second courses and much more. Enter the discount code reserved for our customers "CARDETG" and the order is done, we will take care of the delivery!
If you prefer to enjoy your lunches and dinners sitting comfortably at the restaurant, you can choose, thanks to EuropaCard, between restaurants in Bibione & Lignano for special prices. You will find the complete list in the information booklet delivered during the check-in together with your EuropaCard.
Reading this article do you want to book your next beach holiday with Europa Tourist Group? Visit our website, discover all our Europa Plus benefits and book your next holiday #ETGroupHolidays.