Bibione's thermal facility offers thermal treatments and wellness treatments  in a modern and comfortable SPA, plus many more services dedicated to those who spend the whole year in Bibione.
The thermal spa of the Upper Adriatic is famous for being the landmark of tourists from Germany, Austria and Eastern Europe, thanks to the variety of treatments offered and the professionalism of qualified staff able to identify the most appropriate healing and rehabilitation methodologies for the Health problems.
The thermal water used at the "Bibione Thermae" spa resort rises at 52 ° C from a source located in the bibione hinterland to over 500 meters deep. Depending on temperature and fixed residue, this water is classified as hyperthermal, mineral medium, and according to D.L.105 of 25.01.92 is classified as fluorine sodium bicarbonate alkali. Thanks to its peculiarities, the thermal water of Bibione Thermae is recognized for its therapeutic properties by the Ministry of Health (Decrees Nos 2918 and 2950 of 1996), so some cycles of treatment at the Terme di Bibione are contracted with the National Health Service (SSN).
For your health, choose from: spa treatments, spa treatments with SSN, massotherapy, pick-ups, salt room, physiotherapy and rehabilitation, hydrotherapy, specialist medical and diagnostic visits, dietology and nutrition.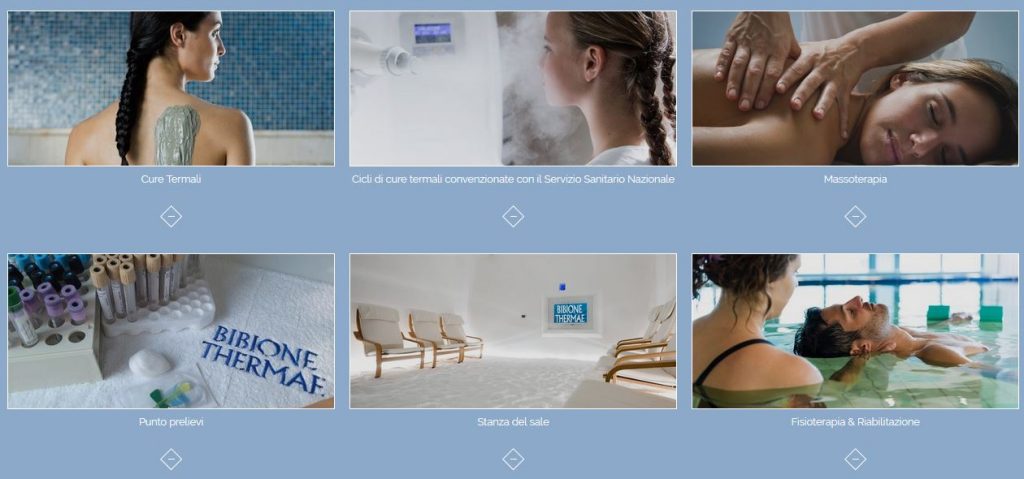 For your well-being choose from: Wellness area, SPA Bibione Thermae – SPA Beauty Farm, indoor and outdoor thermal pools.
Thanks to an agreement with the National Health System, it is possible to access Bibione's thermal facility and all treatments at a convenient price.
Upon payment of a regular € 55,00 fee for medical visit, or a € 3,10 fix amount on a prescription for exonerated patients, you can undergo treatment cycles of 12 consecutive days at corporate prices; it is only possible to benefit from these treatment cycles at corporate price once a year, with the exception of patients suffering from severe health conditions. All further treatments need to be paid for separately by the customer. In order to benefit from such treatment cycles, it is sufficient to show a prescription signed by the family doctor or a specialist from the National Health Service at the thermal facility's reception. Such prescription should bear indications regarding the diagnosis, treatment cycle and – if present – the code of exemption from payment, so as to receive a medical visit and a treatment cycle.

Tutti i nostri hotel offrono ai propri clienti condizioni speciali dedicate proprio al mondo delle terme di Bibione, trattamenti e cure termali, wellness e SPA:
All our hotels offer their guests special benefits for Bibione's thermal facility's treatments, wellness and SPA:
Special discount of 10% dedicated to guests who benefit from a complete thermal treatment cycle at Bibione Thermae (for example, inhalation cycles, physio-kinesitherapy, watsu, thermal muds…) for minimum stays of 7 nights. In order to benefit from this discount, you will need to show the medical prescription or a proof of having reserved such thermal treatments in Bibione.
Our hotels are also part of the CLUB DI PRODOTTO TERME association, and as such they offer:
– treatment packs for Bibione Thermae's own SPA & Wellness Centre
– discounts on hotel tariffs for guests who show a medical prescription for thermal treatments during the booking phase
– reception of groups visiting Bibione for health camps with thermal treatments.
NEW 2017 Thermal treatments

CHILDREN AND INHALATION… HERE'S THE ENTERTAINMENT CREW FOR YOUR FUN!
From June 28th to September 13th, 2017
Every WEDNESDAY from 8.30 am to 12 pm and from 2.30 pm to 5 pm
Children make-up, glitter tattoo, painting, beads, foam and bubbles, origami, art labs, balloons and so much more!
The 'Salt Room' at Bibione Thermae
The 'Salt Room' at Bibione Thermae is the dedicated place for Halotherapy (from Ancient Greek 'halos', 'salt'), an entirely natural therapy which does require pharmaceutical drugs and thus indicated for everyone. The treatment is based upon the several benefits of medical micronised sodium chloride, which is administered through inhalation, so as to enhance blood flow, reinforce the immune system and bring benefits to the skin's health. The recommended therapy cycle is of 12 daily encounters of 30 minutes each, with a frequence of 2-3 times a year.
TUESDAY WELLNESS
Every Tuesday from JUNE 20 to JULY 2017, at the Spas of Bibione on Tuesday afternoon, they transform into enveloping and sensory moments to devote to their relaxation. Fragrances, essences and sounds that will envelop you in a path dedicated to your well-being.
See the Complete Program
Bibione and Lignano's guests, besides enjoying 17 km of golden beach, a stunning sea which has been awarded with EMAS' Blue Flag Award for more than 20 years, plus the Italian Paediatricians Association's prized Green Flag, can now relax and benefit from an array of thermal treatments at super convenient prices!